RITUAL TWELFTH NIGHT FOLK DANCERS STOMP CAMDEN
Molly Dance Performance Highlights Historical Society's Old Time Holiday Revel
CAMDEN, N.J. -- The first hint that this was going to be a really different kind of historical experience came when a bearded man dressed as a frumpy woman pushed a farm plow into the auditorium of the Camden County Historical Society.
Photo: Hoag Levins
The ten-member Handsome Molly troupe performs English ritual folk dances. Larger photo.
Following him were nine other members of Handsome Molly, a Princeton-based performance troupe that specializes in ritual English folk traditions. Dressed in black, with faces painted in wild colors, they quickly made it clear that while others may write history, they dance it.
In fact, by the time the night was out, the high-stepping folk group had a normally-staid audience of local history buffs not only applauding wildly, but gathering in the center of room for a stomping 50-person line-dance finale.
Twelfth Night Revel
The Society's Twelfth Night Revel on Friday was a demonstration of the traditions and customs of the now largely forgotten Jan. 6 holiday that used to end the Twelve Days of Christmas as celebrated in the 18th century.
The event was also a memorial for Judith Snyder, the organization's executive director who died suddenly in October.
"Judy would look out the windows of our 18th-century mansion, Pomona Hall, and imagine what daily life had been like in Camden 22 decades ago," said director of programming Sandy Levins in her opening remarks. "Not long before she went into the hospital, she and I talked about doing a presentation about that era's little-remembered Twelfth Night traditions.



Photo: Hoag Levins

Four different kinds of authentic Twelfth Night cakes -- two of the English style and one each of French and Spanish -- were on display. This one, created by Sandy Levins, is typical of the fancy cakes used at Twelfth Night balls in the 18th century. Larger photo.

It was one of her last ideas for the Society, and we carry it out tonight in her memory."

Among the night's attractions was an exhibit of authentic Twelfth Night cakes -- the confection that served as the centerpiece of the holiday commemorating the coming of the Magi to Bethlehem. Auditorium guests wearing brightly colored paper crowns later made short work of that end of the long dessert table.

18th century
"One of the Society's goals has been to find ways to make history come alive in the imagination of the public groups we serve," said Society president Richard Pillatt. "And history hardly gets livelier than this." He ducked out of the way of an airborne dancer as he spoke.

Out on the dance floor that filled the center of the Boyer Hall auditorium, Mary Zikos, Handsome Molly's singer, was also its main musical instrument. Except for an occasional thump on a drum or short blurt from a penny whistle, the dancers moved to a sea shanty-like rhythm made up of Ms. Zikos' voice and the slap of their own feet on the wood.

Their folk genre -- Molly Dance -- is one form of an ancient English tradition of street dancing used to celebrate various holidays.



Photo: Hoag Levins

Every Molly dance group has at least one "Molly" -- a male who dresses as a woman. Bob Dupre is the Molly of Handsome Molly. Larger photo.

In a time before modern communications technology, such village dancing was a primary community entertainment. Different genres of folk dance were associated with different seasonal festivals. For instance, while Molly dancing was done for the finale of the mid-winter festival, a related form -- Morris dancing -- celebrated the May Day festival that marked the opening of spring planting season.

Working-class colonists
When working-class English and Irish colonists came to North America, they brought their street revels with them to places like Wilmington, Philadelphia and southern New Jersey. For instance, Philadelphia's Mummer's parade is a direct descendent of these transplanted English dance practices.

Molly dancing also had heavy political overtones in England, said Sue Dupre who, together with Ms. Zikos, formed Handsome Molly twelve years ago. She noted that at its heart, Molly dancing was essentially about uncouth laborers raising hell.

"Molly dancing reached its heyday in the early 19th century at a time of great social unrest," she said. "Soldiers wandering back from the Napoleonic wars couldn't find jobs. Factories were starting to appear with processes that dislocated ancient village economic systems. There was a lot of class tension between the haves and have-nots in England."

Dances mocked social conventions
"This dance was a celebration of a holiday at the same time the performers used it to thumb their noses at the upper class," Ms. Dupre continued. "Molly dancers mocked the customs, the dress and the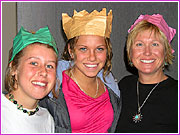 Photo: Hoag Levins

Sporting the colorful paper crowns of the evening are Society education director Charla Lewis and her daughters, Shannon and Chelsea. Larger photo.

refined behavior of the social gentry. You had these male dancers dressing as women to be as outrageous as they could get at that time."

"They disguised themselves using burnt cork to blacken their faces and often 'mumped,' or thumped heavy sticks on the houses that they visited. They could be quite a threatening sight around the front steps."

According to Mary Zikos, Molly dancing evolved from an ancient rite of burning a "plow light" in the village church to invoke the blessings of heaven on the fertility of the fields. Each year on "Plow Monday," the first Monday after Twelfth Night, farmers danced and dragged a plow through the streets as they sought contributions to buy enough oil to keep the sacred plow light burning for another year. The performers were originally called "plow dancers."

Extension of Twelfth Night
"It was like an extension of Twelfth Night," said Ms. Zikos. "The mid-winter holiday celebrations were over, but they wanted to extend them for another day of dancing and money collecting."

But as it evolved, Plow Monday took on a more raucous tone. All-male groups of out-of-work and often-hungry farm laborers disguised themselves and danced house to house but no longer sought donations for church light oil. Instead, they demanded handouts of money and beer for themselves. The plow they dragged was now used to gouge furrows across the lawns or gardens of those propertied citizens who declined to give something.

"In some areas of England Molly Dancing caused so much property damage it was outlawed," said Ms. Zikos.

The legal prohibitions ultimately caused Molly dancing to die out, while other related ritual forms, like Morris, Long Sword and Rapper Sword dancing, continued.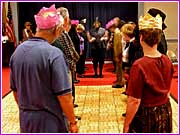 Photo: Hoag Levins
The performance ended with an audience-participation ritual English line dance that stretched from one end of the auditorium to the other. Larger photo.
In the 1960s, as part of a broader folk revival, English ritual dance groups like The Seven Champions of Kent began resurrecting the Molly dancing form. That revival reached the U.S. in 1993, when Ms. Zikos and Ms. Dupre formed Handsome Molly, America's first Molly dance troupe.
"These kinds of ritual dances are a fabulous connection to something really ancient -- there's something wonderful about actually doing dances of the sort Shakespeare was writing about in the 16th century," said Ms. Zikos, who has been a folk singer and dancer since her high school years. "That's part of what makes ritual dancing so attractive to me. It literally let's you walk in the footsteps of ancient peoples."
'Muck and Mire' and 'Jersey Devil'
The songs of the performances were directly reflective of 18th and 19th century working life, with titles like "Walking the Plough," "Yankee Clipper," "Muck and Mire," "Delaware Canal" and "Jersey Devil."
In the end, Ms. Dupre invited the cheering audience to join in the last dance routine called "Cross-Hand Polka," creating a raucous, stomping double line that stretched from one end of the auditorium to the other.
"This has been a roaring success," said Society president Pillatt as the final waves of applause resounded around the hall's high ceiling. "It was an amazing event as entertainment as well as history. They really were dancing English history, American history, South Jersey history and local history. This joyful kind of no-tech night of dance, song, good food, good fellowship and great fun was exactly what many of our ancestors cherished about Twelfth Night in the 1700s. I also think it makes the point that all history is a ongoing celebration of sorts of who we are and where we came from."
---
All Rights Reserved © 2005, Hoag Levins