GWENDOLYN FAISON: 'DISRESPECTED' BUT SHOVELING ON IN CAMDEN
The Former Mayor Looks Back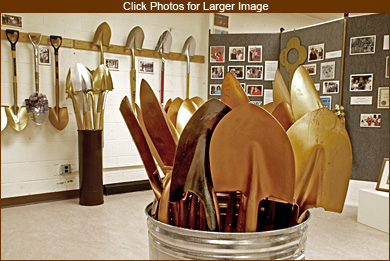 Photo: Hoag Levins
CAMDEN, N.J. (Feb. 15, 2011) -- Symbolic gestures and displays are routine tools for the mayors of American cities. But few have ever had to rule ONLY with symbols because their actual governing powers have been legally stripped away.
That fate -- of being mayor without the normal controls over money, personnel, daily services and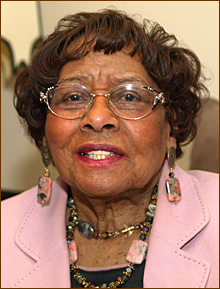 Photo: Hoag Levins
Alternative content
Gwendolyn Faison, who served as Camden's mayor from 2000 to 2009, felt disrespected by the state takeover of her city.
administrative strategy -- befell Gwendolyn Faison for seven of the nine years she served as the top official of this deeply-troubled city.
When the African American senior citizen took the oath of office as Camden's first female mayor in 2000, she inherited a devastated urban center suffering unprecedented levels of economic and political turmoil.
Mayoral crimes
Three of Faison's mayoral predecessors had gone to prison for corruption. Essentially bankrupt for decades, the city was dependent on huge flows of state aid. But despite a river of money from Trenton, daily life had changed little for the overwhelmingly African-American and Hispanic-American population.
This January, one year after she left office, and as the Camden County Historical Society prepared to open a new exhibit about her mayoral tenure, Faison sat down for a long interview. Formerly a resident of the Parkside section of Camden, she recently moved out of the city and now lives in Cherry Hill.
Looking back, she remembered a Camden whose inhabitants had ceased believing that any improvement was even possible.
'People had lost hope'
"We were down to zero," Faison said. "No employment. Abandoned houses. It was sad and the people had lost hope. And even with me, people looked at me and asked, well what can she do?"
The question of what Gwendolyn Faison could do would soon be on everyone's mind as the state took over Camden's government. That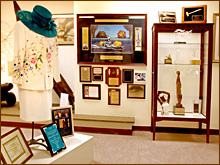 Photo: Hoag Levins
Another part of the Historical Society's 'The People's Mayor' exhibit includes the hat and dress Faison wore to her 2000 inaugural.
extraordinary move reduced the city's elected officials to figureheads with limited formal duties.
'Disrespected'
"I was totally disrespected -- that might as well go in my record," said Faison. "But I was determined they were not going to knock me out."
During her quarter-century career in local government Faison had made miniature push brooms and the concept of a "clean sweep" symbols of her successful political campaigns. Now largely limited to duties such groundbreakings and ribbon cuttings, she turned to shovels as a new symbol of what was going on in Camden.
Groundbreaking shovels
Faison began filling her office with what grew into a collection of more than six dozen groundbreaking shovels -- implements used to begin the building of new state-funded schools, community centers, commercial structures and infrastructure projects in Camden. After leaving office, Faison donated her shovels to the Camden County Historical Society.
"This collection is a historical artifact as unique as Gwendolyn Faison's own political career," said Society Executive Director Linda R. Gentry. "We're very happy to have it."
Faison herself makes no bones about the fact that some people view her shovel collection as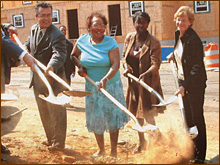 During her years as mayor with limited powers, Gwendolyn Faison (center in blue dress) officiated dozens of groundbreaking ceremonies around the city.
little more than a silly jumble of shed tools spray-painted gold.
"I know it was odd, but the shovels were about things in the city that were positive and inspirational," she said. "It was a way for me to take lemons and make lemonade."
Beyond bad news
"This was at a time when publicity about Camden was awful: most violent city. Most crime. The shovels were a symbol that there was more than bad news happening," she said. "I was using them to show what COULD happen when people had integrity and worked together and supported each other to make a decent city to live in, work in, grow in and raise your family in."
Faison said the shovels that kicked off school projects were her favorite. "That's because education is the best way we can help these Camden kids find their way to a happy, productive life," she said. "The school kids would visit my office and see the shovels and each shovel had a story. I'd have tea and crumpets for the kids. A lot of them wanted to get their pictures taken with the shovels. It was an experience that was about hope, faith, happiness and the promise of better lives -- all the things a mayor wants kids to be thinking about. And I got my own happiness out of all that."
The shovels she missed
And like a lot of dedicated collectors, Faison has her regrets about the shovels she missed getting.
"I would have liked the one from Father Doyle when they broke ground for the new theatre, new gym and a new school," she said. "But they didn't have an extra shovel. Another one I wanted was used when they began all that flood control work on Admiral Wilson Boulevard. But Freeholder Ian Leonard didn't have an extra shovel. And I still wanted the one from Cooper's Ferry -- it was a project where they demolished houses that had become a drug alley to build new homes. I would have liked to have that but the shovel wasn't available."
---
© 2011, HistoricCamdenCounty.com, All Rights Reserved
Contact: editor@HistoricCamdenCounty.com