UNCRATING AN ORIGINAL RCA NIPPER WINDOW
1916 Work of Art Was Symbol of Camden's Industrial Might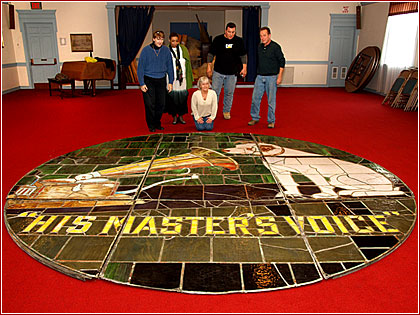 CAMDEN, N.J. -- Camden County Historical Society Board of Trustees members marvel at the fully assembled "His Master's Voice" window from the Nipper Tower that was uncrated after decades in storage. Left to right: Richard Pillatt, past president; Sandra Haughton, vice president; Sandy Levins, president; Ron McHugh and Fred Barnum.
Ron McHugh, who personally has one of the region's largest collections of RCA artifacts, engineered the uncrating. The window was one of four originals made for the Victor Company in 1916 by the famous D'Ascenzo Studios in Philadelphia. It has been stored away in a set of three crates for 40 years.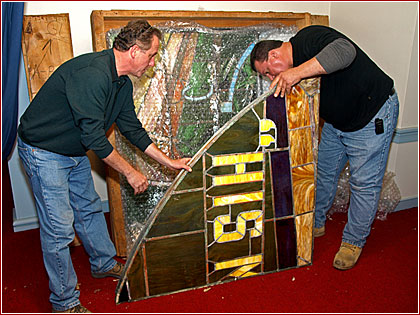 Fred Barnum (left), author of "His Master's Voice in America," the definitive history of RCA, inspects pieces with Ron McHugh as they come out of the crate. "The condition is amazingly good for 93-year-old stained glass," Barnum said.
The broad floor of the Historical Society's Boyer Auditorium was used as an assembly table for the 14-foot-square window that was one of the orignal four windows in the Nipper tower. The other three were given to the Smithsonian, Widener University and Penn State.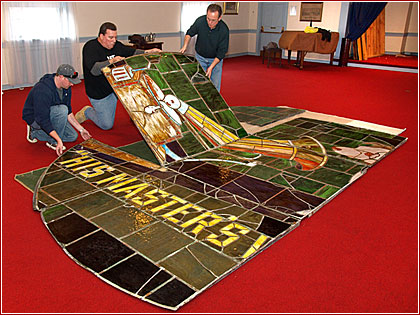 The iconic image begins to fully emerge as Barnum and McHugh fit the pieces together, assisted by Society volunteer James Bennett. In the early 20th century,"His Master's Voice" became the symbol of Camden's world fame as the city that pioneered the recorded music industry.
Historical Society Executive Director Linda Gentry (left) and Museum Director Sarah Hagarty (right) marvel at the awesome size of the window.
---
All Rights Reserved © 2009, Hoag Levins