OLD MOVIE HOUSES OF CAMDEN
Theater Historian Allen F. Hauss Tours a Vanished Urban Landscape
CAMDEN, N.J. -- In a return to the days of the grand old movie theaters that were once primary hubs of community life and entertainment in Camden County,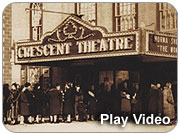 In this ten-minute video, Allen F. Hauss, author of the book, "South Jersey Movie Houses," gives a tour of the once-grand movie theaters of Camden, N.J.

Allen F. Hauss gave his "Old Movie Houses of South Jersey" presentation at the Camden County Historical Society.

Video
The event was recorded by local videographer Brent J. Donaway, who has been documenting theater history and participating in the fight to save the nearby Westmont theater from demolition.

Mr. Hauss, who worked for many years as a projectionist in local movie theaters, is author of the 2006 book, "South Jersey Movie Houses." In his Society appearance, he stirred a good deal of nostalgia with his images and stories of Camden's great movie houses, including the Stanley, Savar, Roxie, Princess, Victoria, Broadway, Towers, Rio and others.

Walt Whitman Theater
One of the grandest -- its interior architecture seemed to almost rival that of a classic Parisian opera house -- was the Walt Whitman located on the border of Camden and Pennsauken. And while broadcast and cable television, DVDs rentals and the internet have ushered in a completely new era of movie distribution, none of them, said Mr. Hauss, can rival the rich community engagement and heritage anchored by the movie houses of the pre-TV era.
---
All Rights Reserved © 2007, Hoag Levins