CAMDEN, N.J. -- A new exhibit at the Camden County Historical Society -- "Threads of Yesterday" (Hilos del Ayer) -- spotlights the seamstresses who have played such a major role in Hispanic culture and family life. It is the first Hispanic-themed event hosted at the 114-year-old Historical Society.
According to the 2010 census data, Hispanics constitute 47% of the population of the City of Camden and 15% of the county.
The opening reception saw an enthusiastic crowd wandering through displays of hand-made dresses from local seamstresses and designers as well as those from Puerto Rico, Cuba, Mexico and Guatemala.
From across Latin world
Included were flamboyant Puerto Rican Bomba and Cuban Cha Cha dresses associated with dances of the same name; Quinceañera or "Sweet 15" dresses central to the culture's female coming-of-age ceremony; colorful gauze-like Oaxacan dresses from the southwestern coast of Mexico; flowing Plena dresses worn for the traditional Puerto Rican Plena or "Sung Newspaper" dance in which local gossip was communicated as song lyrics; and intricately patterned Huipil blouses and ponchos of Mayan origin.
"The significance of this exhibit is that we're continuing to expand and talk more about the 'other' people who lived in Camden County -- in this instance, the Latino community," said the Historical Society Executive Director . "The dresses are a way for us to begin a conversation with the Latino community and let them know we want to be a home for their history."
"The original exhibit plan focused only on Quinceañera dresses," the Director explained. "But as we did some research and talked to others in the community, we began to understand how the sewing culture is a central pillar of much of Latino life. So, we made this about dresses and dressmakers from all over the Latin-American world."
Camden's garment factories
In another section of the exhibit were black and white photos of Hispanic seamstresses at work in Camden's now-defunct DiPaola Coat Factory, where as many as 50% of the workers sewing coats for the U.S. Army and other clients were Hispanic.
One of those DiPaola workers was the mother of Beatrice Caraballo of Pennsauken, who is the community curator of the the Historical Society's "Threads of Yesterday" exhibit.
"In many ways, sewing is the thread that keeps our community together," said Caraballo,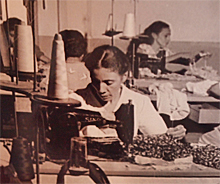 Photo: Courtesy, B. Caraballo
During Camden's industry heyday, the city's now-defunct DiPaola coat factory relied heavily on Hispanic seamstresses. Larger image
a local Hispanic radio personality, Assistant Organizer of the annual New Jersey Hispanic Leadership Summit and President of Camden's Parada San Juan Bautista (St. John the Baptist Parade) organization.
"As girls, we've all sat while mommy or grandmother was knitting or sewing and she'd be telling us stories of our history and family," said Caraballo. "Or she's giving us advice about our new boyfriend or other things going on in our lives. So many of us have such rich memories of these things and how they shaped so much of who we are and what we've become today."
Seamstress mothers, sisters, aunts
Indeed, one of the most commonly expressed sentiments of Hispanics who have reached high U.S. office in recent years has been the gratitude they feel for seamstress mothers, sisters and aunts.
In her autobiography "My Beloved World
," published earlier this year, Sonia Sotomayer -- who in 2009 became the first Hispanic Justice on the U.S. Supreme Court -- detailed her hardscrabble upbringing in the Bronx and the influence of her seamstress mother.
U.S. Sen. Bob Menendez, the highest ranking Hispanic in Congressional history as chairman of the Senate Foreign Relations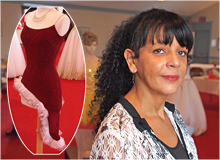 Photo: Hoag Levins
Barrington seamstress and designer Maria Arroyo's Cha Cha dress (inset) was the most talked about item in the Historical Society exhibit. Larger image
Committee, often cites memories of his seamstress mother's life. "She worked in the textile factories of northern New Jersey," he recently wrote in a
Huffington Post
article. "I saw how hard and tiring her work was."
The iconic character of the seamstress is also a thread that winds itself through Hispanic literature, theater and cinema in ways that underscore the deep emotional resonance of the dressmaker in Hispanic culture.
In recent years, a number of novels have focused on the subject, including Maria Duenas' 2012 "The Seamstress
"; Frances de Pontes Peedles' same-named "The Seamstress
," winner of the 2009 International Latino Book Award; and Mayra Santos-Febres' 2009 "Our Lady of the Night
," about a 1940s Puerto Rican seamstress who struggles against the island's social barriers of color and sexism.
'Ugly Betty' star's seamstress role
In the movies, the break-through classic West Side Story
's star, Maria, is a bridal shop seamstress. But that's only the beginning. "Ugly Betty" star America Ferrera (whose parents came from Honduras) broke into big time Hollywood with her role as a Hispanic seamstress in the 2002 movie, "Real Women Have Curves
."
Others in the same cinematic genre include "Habana Eva," a 2010 movie judged Best Picture at the New York International Latino Film Festival. It's a Venezuelan romantic comedy about a Cuban seamstress who works in a sweatshop but dreams about becoming a fashion designer. "Under the Same Moon
" is a 2007 drama about a Mexican boy who sets out to find his seamstress mother on the other side of the border.

Similarly, "I don't Envy Love," Maria Merlino's one-woman play, was the hit of last year's International Hispanic Theatre Festival in Miami. It's the story of a humble Buenos Aires seamstress who battles to open her own tiny dressmaking shop ultimately patronized by Argentine First Lady Eva Peron.

The dream of fashion designer fame
That dream -- of parlaying one's creativity and sewing skills into a successful fashion design career -- is also a central thread of many Hispanic women's secret dreams.

"Seamstress skill has helped so many women survive," said Caraballo. "It has fed their children and put many of those children through college. And some women have used those skills to become very, very successful in the fashion industry in ways that provide exciting role models for others."

Some examples of those who HAVE achieved that goal include Manhattan's Cuban-American fashion designer Isabel Toledo, who created the dress worn by Michelle Obama at her husband's inaugural, and Mexican-American seamstress Elvira Treviño of San Antonio, who made President Lyndon Baines Johnson's famed ranch jackets.

In the Historical Society's opening exhibit, the item that drew the most attention and comments was a Cha Cha dress that was a work of elegance and sparkle by Maria Arroya, who recently opened her own shop, Designs by Maria, in Barrington.

"I've always loved sewing," Arroya said. "When I was young, I used to make my own clothes and my younger brother's clothes. It was just part of our upbringing."

Project Runway impact
Arroya, who has a design degree from the Philadelphia University of The Arts, noted that the younger generation's interest in seamstress skills has long been in decline but that the wild popularity of "Project Runway" and other new TV fashion design competitions has spiked new interest.

"My older son Angel loves 'Runway'," she said. "He is excited about creating a style nobody else has; now he always wants to know 'how to make it'."

Arroya, who has been working as a seamstress and designer for 30 years, gestured to the dress displays and crowded Historic Society auditorium around her, calling it, "such a milestone for us."

"They're actually allowing us to be part of 'history' for the first time," she continued. "It feels like such an honor for our Hispanic culture and all these designers to be a part of something like this."

~ ~ ~

CCHS is funded, in part, by the New Jersey Historical Commission.