ARTISTS FROM LAWNSIDE'S DREAMLAND ERA
Early Hitmakers Who Blazed the Path to Modern Music


By Sandy Levins ... | ...December, 2007


LAWNSIDE, N.J. -- When names like Ella Fitzgerald, Count Basie, Duke Ellington and Nat King Cole are mentioned, most people have at least a nodding acquaintance with their work and contributions to our culture's music.
But what about names like Louis Jordan; Harry "Fats" Crafton; Jimmy Preston and his Prestonians; Tiny Bradshaw; Steve Gibson and the Red Caps; Damita Jo and Dinah Washington? Although not as well known as the former group of musicians, these artists, just like their more famous counterparts, were also associated with the Dreamland Cafe in Lawnside. So just who were they, and why are they important?
Louis Jordan is hailed by many music historians as both the "Father of Rhythm & Blues" and the "Grandfather of Rock & Roll." His work laid down much of the structure on which Rock was later built. Hear Louis Jordan music
---
Louis Jordan
Saxophonist/vocalist Louis Jordan is considered the #1 R&B artist of the 1940s -- some say of all time. At the height of his career, Jordan scored 18 #1 hit records. In the tradition of Louis Armstrong and Fats Waller, he was a brilliant showman who, as music critic Leonard Feather wrote in The Jazz Years, delivered first-rate entertainment "without any loss of musical integrity." Jordan's jazz-based boogie shuffle rhythms paved the way for rhythm and blues, modern electric blues, and rockabilly music. Whether at house parties, fish frys or corner grills, Jordan's music appealed to millions of black and white listeners. Able to "straddle the fence" between these two audiences, he emerged as one of the first successful crossover artists of American popular music. Born in Arkansas in 1908, he learned his showmanship as a child touring black minstrel shows. Recording for the first time in 1929 with a group called The Jungle Band, he eventually formed his own group, The Tympany Five, which he led from 1938 to the end of his life. The band dressed in bright colors and delighted audiences with their flamboyance, well-rehearsed theatrics and a style some consider the forerunner of rap. Jordan also appeared in several films -- "Follow the Boys," "Meet Miss Bobby Sox" and "Swing Parade of 1946." Louis Jordan died at age 66 in 1975 of a heart attack. Twelve years later, in 1987, he was inducted into the Rock & Roll Hall of Fame in the Early Influence category. His best remembered works:
| | |
| --- | --- |
| 1945 | Yip Yip De Hootie with Bing Crosby |
| | My Baby Said Yes with Bing Crosby |
| 1946 | Stone Cold Dead in the Market (He Had It Coming) with Ella Fitzgerald |
| | Patootie Pie with Ella Fitzgerald |
| | Choo Choo Ch'Boogie (later covered by Bill Haley) |
| 1947 | Ain't Nobody Here But Us Chickens |
| | Boogie Woogie Blue Plate |
| 1948 | Run Joe with The Calypso Boys |
| 1949 | Baby, It's Cold Outside with Ella Fitzgerald |
| | Saturday Night Fish Fry |
| 1950 | I'll Never Be Free with Ella Fitzgerald |
Harry "Fats" Crafton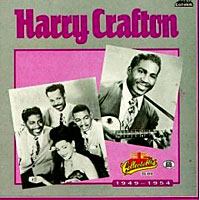 In guitarist Harry Crafton hits such as "Guitar Boogie," it's easy to hear the about-to-be-born genre of Rock & Roll. Hear Harry Crafton music
---
Though largely neglected, Harry "Fats" Crafton is considered one of the better postwar guitarists to carve a small but special niche for himself in the Philadelphia music scene soon after World War II. He recorded with Gotham Records in 1949, then led his own group, known first as the Jivetones and later as the Craft Tones. In 1950 Crafton recorded "Guitar Boogie" -- an instrumental considered five years ahead of its time as one of the earliest pieces of rock and roll. He last recorded with RCA-Victor artist Melvin Smith in the late 1950s and early 1960s.

Jimmy Preston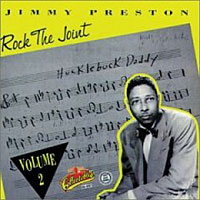 Bill Haley's breakthrough Rock & Roll hit "Rock Around the Clock" was simply a new recording of Jimmy Preston's original song entitled "Rock the Joint." Hear Jimmy Preston music
---
Jimmy Preston is another of the forefathers of today's rock and roll. Born in Chester, Penn., he was a vocalist, sax player and bandleader whose first big hit was called "Hucklebuck Daddy" (climbing to #4 on the R&B charts) in 1949. His lasting claim to fame came later that year when he recorded a jump tune called "Rock the Joint" for Gotham Records in Philadelphia. Three years later, a fledgling musician named Bill Haley, who also hailed from Chester, re-recorded a new version of Jimmy Preston's "Rock the Joint" with a guitar solo that would be repeated note for note in a little something called "Rock Around the Clock." Although Jimmy Preston & His Prestonians were dance club favorites in Philadelphia clubs in the late '40s and a weekend standby at Dreamland into the early '50s, Preston abandoned the music industry for the ministry in 1952, leaving behind a recording that marked a turning point in the history of rock and roll.

Tiny Bradshaw


Tiny Bradshaw, born Myron Bradshaw in 1905 in Ohio, was a prominent bandleader, singer, composer, pianist and drummer who led groups of jazz-trained musicians into the developing musical genre that came to be known as rhythm & blues. He got his start in music while majoring in psychology at Ohio's Wilberforce University, singing with Horace Henderson's campus-oriented Collegians. Bradshaw formed his own band in 1934, which he kept going through the early '50s. Although he had some successful recordings in the 1930s, notably with "Shout, Sister, Shout" and "The Darktown Strutters Ball," he is best known for the original recording of "Train Kept A-Rollin'" in 1951, which transitioned from the R&B/blues market into rock when the song was covered first by the Yardbirds in 1965 and again by Aerosmith in 1974. Bradshaw, who suffered a series of strokes in the 1950s, died in 1958 at age 53.

Steve Gibson


For more than 21 years, from 1939 until almost 1961, Steve Gibson and the Red Caps recorded under different labels; there were variations of the group's name; the band would break up and reunite from time to time in different forms, but always with Steve Gibson at the helm. They were a constant draw in clubs throughout the east in the '50s, including Philadelphia's Rendezvous Cafe and The Martinique in Wildwood, New Jersey, where Gibson's Red Caps were appearing for their 12th season in a row. Though they remained a popular draw for years, their record sales never really measured up to their in-person popularity. Their biggest record was a cover of the old pop standard "Wedding Bells Are Breaking Up That Old Gang of Mine" in 1948. In 1952 Gibson took on a female vocalist -- and a wife -- when Damita Jo joined the Red Caps. But like so many of the Red Caps before her, Damita Jo was in and out of Gibson's life, divorcing him in 1958. Two years later, in 1961, the group split for the last time because of tax problems. But somehow Steve Gibson managed to reunite some of his Red Caps and continued performing into the mid-1960s featuring a then-unknown female vocalist from Philadelphia named Tammi Terrell, who would rise to fame as Marvin Gaye's duet partner on songs like "Ain't No Mountain High Enough," "Ain't Nothing Like the Real Thing," and "You're All I Need to Get By."

Damita Jo DuBlanc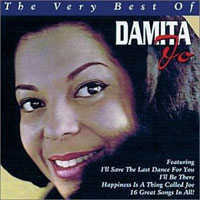 Damita Jo DuBlanc was one of the area's most popular live performers at local clubs. Katherine Jackson, mother of the Jackson Five, named her youngest daughter Janet Damita Jo Jackson, after her favorite singer. Hear Damita Jo DuBlanc music
---
Some people best remember song stylist Damita Jo DuBlanc, born in Texas in 1930, for her two Top 40 hits from the '60s -- "I'll Save the Last Dance for You," an answer song recorded in 1960 in response to the Drifters' "Save the Last Dance for Me," and "I'll Be There," recorded one year later in answer to Ben E. King's "Stand By Me." Others recall her as a staple of the supper-club circuit, touring with names like Redd Foxx, Ray Charles, Count Basie, Lionel Hampton and, later, Joey Bishop. And those who are up on their musical trivia may know that Katherine Jackson, mother of the Jackson Five, named youngest daughter Janet Damita Jo Jackson, after her favorite singer. Like many performers, Damita Jo bounced from label to label throughout the '50s and '60s, but her recording career never quite matched the popularity of her live appearances. In 1951 DuBlanc joined Steve Gibson and the Red Caps for a two-week stint at New Jersey's Riviera Club. She toured with the group from coast to coast and was the featured vocalist on their 1952 hit "I Went to Your Wedding"; two years later she became Gibson's wife; five years later Damita Jo left both the marriage and the Red Caps. Unable to duplicate her brief success in the early '60s, DuBlanc shifted her talents to live performance in 1968. Despite her popularity on stage, she decided, in 1984, to dedicate her life and her music to the church, performing only gospel music for the rest of her career until a respiratory illness claimed her on Christmas Day, 1998.
---
Sandy Levins is a trustee and director of programming at the Camden County Historical Society