REMEMBERING DREAMLAND: CROWDS PACK PHOTO EXHIBIT OPENING
Lawnside's Vanished Musical Era Comes Back to Life for One Night


By Hoag Levins ... | ...February, 2008


CAMDEN, N.J. -- More than two hundred people attended the Feb. 2 opening night reception of the "Lullaby for Dreamland" photo exhibit at the Camden County Historical Society. The event, which featured two shows by the Bootsie Barnes Quintet,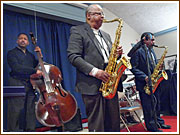 Photo: Hoag Levins
The evening's music was provided by the Bootsie Barnes Quintet: Shown here (left to right) are Lee Smith on bass, Bootsie Barnes and Sam Reed. Not shown are Don Wilson on keyboard and Craig McGyver on drums. Barnes, Reed and Wilson all played at Dreamland in its heyday. See larger photo.

---
Also Hear a 60-second sample of the music.

---
a soul food buffet prepared by Corinne Powers of Corinne's Place, and a display of a unique collection of photos from Lawnside's now-vanished musical clubs, drew one of the largest crowds to ever come to the Society.

Assembled for Black History Month, the program was a cooperative endeavor of the Camden County Historical Society, the Lawnside Historical Society and the Camden County Cultural and Heritage Commission. The photo exhibit spotlights musical artists from the Lawnside club scene that was a major east-coast music hub from the 1930s to the early 1970s. It is on loan from the Walt Whitman Arts Center in Camden, where it was originally curated by Stephen D. Winick of the Delaware Valley Folklife Center. The exhibit remains on display through April 10.

Speaking over the din of a jazz band in full volume and a wildly enthusiastic crowd, Camden County Historical Society Executive Director Linda Gentry termed the packed proceedings "a night of incredible triumph for local history as well as music."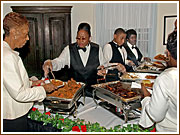 Photo: Hoag Levins
Serving up the night's Soul Food buffet was Corinne Powers, of Camden's famed Corinne's Place restaurant. See larger photo.

---
The food, along with the entertainment, was funded by the Camden County Board of Chosen Freeholders. The night's savory fare was prepared by Ms. Powers, who is nearly as famous as many of the musicians being celebrated by the evening's festivities. Her restaurant is renowned as a regional landmark. And the night's menu of traditional soul food chicken, ribs, greens, sweet potatoes, corn bread and all the fixings brought rave reviews from the crowd.
The night's band consisted of Bootsie Barnes and Sam Reed on saxophones, Don Wilson at the keyboard, Lee Smith on bass and Craig McGyver on drums. Barnes, Reed and Wilson are long-time veterans of the old Lawnside club scene where they frequently appeared as musicians as well as patrons. Their goal for the evening was to try and recreate the essence of what the Lawnside clubs sounded like in their heyday.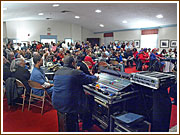 Photo: Hoag Levins
It was standing room only at both of the evening's musical shows that opened the Dreamland exhibit. See larger photo.

---
Aside from regularly drawing patrons from as far away as New York, Baltimore and Washington, the Evesham Avenue strip of clubs served as a social hub of the region's community of professional musicians. "You could be in touch with so many musicians there," said Mr. Wilson. "Anybody who was somebody was there. A lot of them played the jazz clubs in Philadelphia, like the Blue Note or the Showboat. After their gigs were done for the night there, they came across the bridge to Lawnside to hang out and relax. It was a party scene that was always on." Mr. Wilson, who is 74, has been playing piano for 60 years.
Sunday was the biggest day for the Lawnside clubs, remembered saxophonist Sam Reed. "The Blue Laws closed Philadelphia on Sunday, so everybody would be in Lawnside. It went on all day and way into the night. It was always crowded."
Photo: Hoag Levins
Hundreds turned out to view the Dreamland photo exhibit, enjoy the Soul Food and listen to the band. See larger photo.

---
"The absolute peak of the whole thing was in the late 60s. It all started going downhill after that," said band leader Bootsie Barnes. Barnes, who was initially inspired by the music of Charlie Parker, has been playing sax since he was 19.
Mr. Barnes played Dreamland as well as Loretta's Hi-Hat. "Every one of the five or six clubs along Evesham had a barbeque joint in the yard, and as soon as you turned the corner, that's all you could smell: the barbeque and Jersey corn on the cob dripping with butter."
"I used to play at Dreamland with Bill Walker," he said. "My pay was $65 for the whole weekend. Friday, Saturday, Sunday. $5 for the Sunday afternoon matinee. But $65 was a lot of money back then. You could buy drinks, rib sandwiches and everything and still come home with a pocket full of money."
"My biggest memory of the Lawnside Dreamland time was playing backup for Marvin Gaye," Said Mr. Barnes. "He had some big hits out then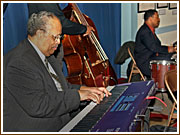 Photo: Hoag Levins
Keyboardist Don Wilson (foreground) has been playing professionally for 60 years and remembers Dreamland and the other Lawnside clubs as the social center of the area's music scene. At far right is drummer Craig McGyver. See larger photo.

---
but he was temperamental. Nobody satisfied him." During that period, Gaye was the Motown record label's top recording artist. And like many of the country's top African-American artists of the era, he both played and patronized Dreamland and other of Lawnside's famed Evesham Road clubs.

Some of the night's visitors literally helped to bring the pictures from the exhibit to life. When Dottie Smith, who appears in the photo of the Harlemaires that has been the promotional icon of the Lullaby for Dreamland event, entered the auditorium, she was instantly recognized by many audience members. Invited to the microphone by Bootsie Barnes, she belted out a string of songs that brought the crowd to its feet in a standing ovation.

Afterwards, she reminisced about her long career and the broader meaning of the Lawnside music club era to the region's larger black community. A life-long Philadelphia resident, Ms. Smith began visiting Lawnside's Evesham Road entertainment area as a little girl. "My parents used to take us over to Jersey to fish and afterwards, we'd stop in Lawnside for corn on the cob," she said. "It was so comfortable because it was ours. I mean blacks. Most other entertainment places wouldn't let us in."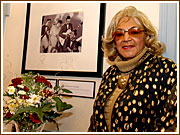 Photo: Hoag Levins
Dreamland-era singer Dottie Smith stands by an exhibit photo that shows her as a member of the Harlemaires in 1949. See larger photo.

---
"Those days in Lawnside, you could set up a picnic table, meet good people, let the kids run around and play in a nice place. There was a pool and picnic areas and the night clubs and other places like Fuss and Feathers, which had fashion models as well as a show," she said.
"On Sunday, a lot of people would leave church and go right over there for the rest of the day," she said. "That's why it all felt so much like family. There were grandmothers and kids and musicians and shriners and everybody from all walks of life. Blacks didn't have a Blue Book or a Country Club. Lawnside was where we went. It cost practically nothing to enjoy yourself. I remember in Philadelphia there used to be this weekend saying that it was time to 'go down the ridge and over the bridge,' which meant heading out for Lawnside and the clubs and all."
Ms. Smith, who used to sing around her house as a teenager, began her career by accident in 1949 when her sister convinced her to audition at the King Cole Club at 9th & Columbia. One of the patrons that evening was a member of a newly formed band called Harlemaires which had just lost its female singer. Two months later, Ms. Smith opened with the Harlemaires at the Baby Grand on 125th Street in New York -- one of Harlem's then-famous nightclubs.
In 1952, she joined the band led by Louis Jordan, who, along with Duke Ellington and Count Basie, was one of the country's top bandleaders in the 1950s. As part of Jordan's group, Ms. Smith hit the road and, for the next decade, criss-crossed the country playing New York's famed Apollo Theater as well as the theater circuit in major cities from Maryland to California. She regularly played the Sands Casino in Las Vegas and Harrah's in Tahoe. She appeared on the TV shows of Patti Page, Perry Como, and Steve Allen. And, for a while, she had her own stage show, "The Dottie Smith Revue," which was a down-sized version of the shows from the heyday of Harlem's night clubs.
And 60 years after she started, she's still at it. For the last seven years Ms. Smith has been performing in the region's senior citizens' centers with Bruce Frazier and the Grace Notes.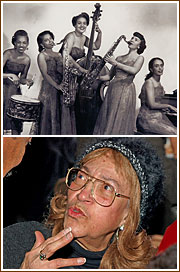 Photo: Hoag Levins
Above is an exhibit photo showing pianist Myrtle Young and her all girl band, which was a regular attraction at Dreamland. Below, Ms. Young attended the exhibit opening and here chats with old friends from those musical days in Lawnside. See larger photo.

---
Another of the night's visitors pictured on the wall was Myrtle Young, who played Dreamland for years with her all-girl band -- a rarity of the era. "But that's actually how I started, in an all-girl band," said Ms. Young, who began her musical career with the International Sweethearts of Rhythm. That big band was formed entirely of women in the 1940s when World War II took so many of the country's male musicians into military service.
After the Sweethearts broke up, Ms. Young joined a band that played in Venezuela for several years. When she returned to the U.S., she formed her own all-girl band and was hired at Dreamland, where she played for years. "One of the people I remember most from then is Sarah Dean. She played Dreamland for 18 years. We were good friends and she was such a great entertainer. She would come off the stage in the middle of the place and walk around that crowded bar singing 'Shake a Hand' and the crowds just loved her."
"A lot of the environment that people remember as Dreamland was created by Jack and Emily Brady, who owned the club," she said. "They were both such wonderful people. I remember when they died and another family member took over Dreamland, it was never the same. It was the beginning of the end. But I like to remember it how it was when that Lawnside strip of clubs was in full swing -- there was no place quite like it anywhere else."
---