CAMDEN COUNTY'S FIRST LUNATIC ASYLUM
The Evolution of Lakeland at Blackwood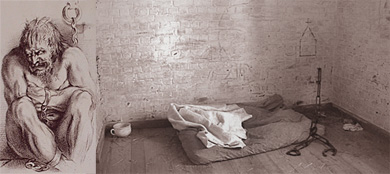 BLACKWOOD, N.J. -- Although Ancora, which opened in 1955 in Winslow Township, may be Camden County's best-known psychiatric hospital, it's not the first.
The first facility for the county's mentally ill was established in the late 1800s along the Timber Creek in Blackwood, at what became known as Lakeland. It was run according to concepts of treatment and mental illness that are shocking to most modern-day people.
Nineteenth-century society largely viewed the mentally ill with fear and annoyance and favored "putting them away" in asylums. Back then, it was then believed that among the many causes of lunacy were disappointed affection; loss of property; fatigue and excitement; domestic trouble; abuse; sudden death of a loved one; imprisonment of a relative; drink; intemperance; masturbation; overwork; long-continued womb trouble; an unhappy marriage; operation for hemorrhoids and suicidal menopause.
Initially, those unfortunates were housed in a two-story, wood-framed building partitioned into cells that was called "the mad house." In 1839 Dorothea Dix, a tireless advocate for more humane treatment of the mentally ill, described it as "populous with imbecile, insane and epileptic patients -- 25-30 individuals. [It] contains ranges of small cells altogether unfit for the individuals they house."
In 1878, freeholders approved construction of a "lunatic asylum" adjoining the poorhouse. The three-story brick structure, designed to house 90 patients would, according to the freeholders, provide "all the best modern appliances for the care of the insane."
Over the next 47 years, additions and improvements were made to the original brick structure until, by 1925, the asylum had grown to include a nurses' residence; an admission building where new patients were examined and observed; and a service bridge across the ravine connecting the old brick asylum to the new admission building. At the same time, Timber Creek was dammed, providing a scenic lake and giving the facility its new name: The Camden County Insane Hospital at Lakeland.
Strange early treatments
Along with improvements to the physical structures that housed them, care for the mentally ill gradually began to shift from strictly custodial to therapeutic, with treatments running the gamut from the simply bizarre to the truly horrific.
Despite the undeniable strides both hospitals had made in treating the mentally ill, Ancora wasn't the only one to take its licks in the press. From the 1960s through the 1980s, Lakeland was rocked by charges of inefficient operations, the ups and downs of political uncertainties and negative community perceptions. By 1998 the decision was made to consolidate county operations into a single, modern facility occupying 226,000 square feet. Today that sprawling complex at Lakeland is known as the Camden County Health Services Center, part of which is a modern, 158-bed Behavioral Health facility that, along with Ancora Psychiatric Hospital, provides state-of-the-art psychiatric care for the residents of Camden County.
---
© 2011, HistoricCamdenCounty.com, All Rights Reserved
Contact: editor@HistoricCamdenCounty.com