FROM MUSIC-CHART TOPPER TO ANCORA PSYCHIATRIC HOSPITAL
The Rise and Fall of Local Singer Joan Weber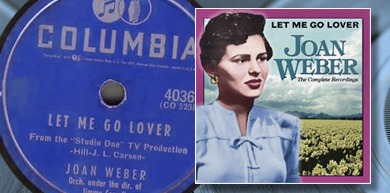 ANCORA, N.J. -- Although strict confidentiality rules keep the identity of Ancora Psychiatric Hospital patients secret, one who is well known is local recording artist Joan Weber, who rocketed to national fame in 1954 and then, just as quickly, disappeared from view. Her's is the sad tale of a "one-hit wonder" pop singer plagued by emotional difficulties that led her to this institution, where she died at age 45.
Born in Paulsboro in 1935, Weber was 18, married and pregnant when her bandleader husband introduced her to to talent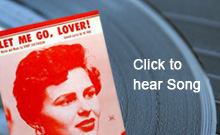 Weber's "Let Me Go, Lover" topped all national music charts in the 1950s.
manager Eddie Joy. He, in turn, introduced her to Charles Randolph Grean, a talent scout and producer for RCA and Dot Records in New York. Grean was so impressed he passed a demo of her singing something called "Marionette" to Mitch Miller, chief of Columbia Records and one of the music industry's most powerful executives. In short order, Joan Weber found herself under contract to Columbia.
Developing music for the old CBS-TV series Studio One at the time, Miller had Weber record a song titled "Let Me Go, Lover" for an episode due to air November 15, 1954. Originally titled "Let Me Go, Devil," the song had been written a year earlier about a country star's battle with alcoholism. But Miller felt the song was too depressing for a pop audience and had the word "Devil" changed to "Lover" for its re-release.
National TV exposure
"Let Me Go, Lover" was heard on national TV no fewer than six times during the broadcast, sending people to their local record stores in droves the next day, looking for the song they had heard the night before. By then, Miller, a shrewd music promoter, had already shipped thousands of copies to record stores nationwide.
The record sold over 100,000 copies the first week of its release and hit the Billboard charts on December 4, 1954. Within days, not to be outdone, other major record labels issued covers of the song, led by Mercury's Patti Page, Teresa Brewer for Decca's Coral label, RCA Victor's Sunny Gale and Hank Snow's country version, also for RCA Victor.
Topped the charts
By January of 1955, Weber's recording of "Let Me Go, Lover," had shot to #1 on every Billboard chart -- the Disk Jockey chart, Best Seller chart and the Juke Box chart -- where it stayed for four weeks, selling over a million copies and earning Joan Weber a gold record.
At the very height of her success, Joan Weber gave birth to a baby girl she named Terry Lynn, and was unable to do the breakneck promotion demanded of a pop star. She appeared on the popular Ed Sullivan Show after Christmas in 1954, did some nightclub gigs, and even recorded a handful of follow-up singles. But they went nowhere. As a result, Columbia dropped her from their roster and terminated her contract. With just one hit record to her name, as quickly as she had risen to the top, Joan Weber fell out of sight. She was reported to be singing in bars and working as a library clerk for a time.
One last time
But Columbia hadn't forgotten about her. In 1969 they sent her a sizeable royalty check that came back, the envelope marked "Address Unknown." But in a sad irony, Joan Weber found herself on the charts one last time. In 1975, Casey Kasem's popular chart show, American Top 40, aired a special program featuring its "Top 40 Disappearing Acts." Joan Weber, with "Let Me Go, Lover," was ranked #1.
In May of 1981, her stardom long forgotten, she died at Ancora of heart failure.
---
© 2012, HistoricCamdenCounty.com, All Rights Reserved
Contact: editor@HistoricCamdenCounty.com