SPRINGDALE FARM HONORED BY CAMDEN COUNTY HISTORICAL SOCIETY
Ebert and Jarvis Families Receive Historic Preservation Award


By Hoag Levins ...| ...Nov. 20, 2005


PINE HILL, N.J. -- The owners and operators of Cherry Hill's Springdale Farm were named recipients of the Camden County Historical Society's 2005 Historic Preservation award at a Nov. 11 ceremony at the Pine Hill Golf Club.
---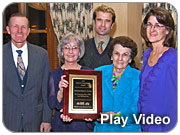 At the awards ceremony at the Pine Hill Golf Club were (left to right) Tom Jarvis, Sandy Levins, Camden County Historical Society director of programming, John Ebert, Mary Ebert and Mary Ann Jarvis. Ms. Levins also recounted the history of Cherry Hill's now-vanished world of family farms.

---
Small family farm
"The small family farm is one of the most culturally cherished and economically important institutions in the history of both the country and the county," said Sandy Levins, the Society's director of programming. "This year's award honors the Ebert and Jarvis families for their determination and hard work in perserving a way of life as well as the last remaining small family farm in Cherry Hill."
The award presentation was part of the Historical Society's annual fundraising dinner, which also featured a celebration of antiques, including "Antique Roadshow"-like appraisals and an auction conducted by Audubon Auctioneers. The event was sponsored by Public Service Electric & Gas, 1st Colonial National Bank and the New Jersey Farm Bureau.
History as living force
"For many people, the word 'historical' means old buildings, antique objects and old documents," said Society president Richard Pillatt. "But history is a living force and a large part of its texture in South Jersey has to do with old ways of life that have disappeared. It is actually amazing that in Cherry Hill -- a densely-populated suburb of skyrocketing property values, clogged roadways and sprawling strip malls -- the families of Springdale have not only been able to hang on, but have prospered when virtually every other neighboring farm gave up and sold out."
The original 67-acre Springdale Farm was established by Mary Ebert and her late husband, Alan, in a little-traveled, rural area of Camden County in 1949. It took its name from the natural springs that laced the area. The Eberts' was one of a network of family farms contracted to supply
Photo: Hoag Levins
Springdale Farm is the last small family farm remaining in the formerly rural area that is now Cherry Hill. In the foreground (with the hose) is Tom Jarvis, the farmer of Springdale Farm. See larger photo.

---
fresh vegetables to the Campbell Soup Co. in Camden and frozen food packer Seabrook Farms in Cumberland County. They also began the roadside produce stand that brought a regular tide of fresh produce pilgrims down the road that ultimately came to bear their farm's name.

Landmark farms
In the 1950s, Cherry Hill -- then known as Delaware Township -- was literally carpeted by farms that fed the voracious requirements of Campbell's, the world's largest soup manufacturer, as well as the fresh vegetable demands of local household cooks. By the early 1960s, the post-World War II housing boom had exploded beyond Camden's first ring of suburbs to transform Cherry Hill's farmlands into cornrows of tract homes, condominiums and apartment complexes.

One by one, the landmark farms whose stories were a central chord of local history sold out to developers and helped fuel the building boom that spiked real estate values and changed the tax situation and economical balance in a way that and made it increasingly difficult for remaining farmers to survive.

Agritainment
The Eberts and Jarvises were early pioneers in the emerging new "agritainment" business that has become a major staple for small farmers across the country who augment their
Photo: Hoag Levins
Springdale Farm now has a shopping complex at its center; it has also been a pioneer in the emerging field of 'Agritainment,' which small farmers across the country are now using to augment their crop-related revenues. See larger photo.

---
income by marketing hayrides, corn maze adventures, pick-your-own crops, fall Halloween experiences and other farm-related community events. In the case of Springdale, its busiest season is fall when pumpkins move off the shelves by the truckload and hundreds of people a day take its tractor-pulled wagon rides around the property. Although not evident from the roadway, the grounds include a system of dirt roads, woodlands and three spring-fed lakes which are the source of the farm's sprawling irrigation systems, and crop fields where visitors can experience the quiet and often-overlooked wonder of the fertile earth that feeds us.

Real-life farmers
The overall survival of Springdale Farm was made possible by help from the Township of Cherry Hill and Camden County's Open Space Trust, which enabled the families to preserve the grounds as farmland and approved their creative plans for the construction of the store complex that now serves as the center of a business that grows 30 different kinds of fruits and vegetables. The facilities, which include an on-site bakery, grocery store, flower shop, gift shop, greenhouses and meeting rooms, have become a magnet for community members with a yen for the direct purchase of farm-fresh produce as well as a primal desire to be connected to a real-life local farm and real-life local farmers, just as their Camden County ancestors were.
---
See First Photo Page >
---