KEEPING ABRAHAM LINCOLN'S BLOOD ON FILE IN CAMDEN
Curious Relics in The County Historical Society's Civil War Collection
CAMDEN, N.J. -- It is an unusual and little-known fact that the blood of Abraham Lincoln is on file at the Camden County Historical Society.
The seemingly gruesome artifact is a small strip of linen from the bed clothes on which
Lincoln Photo: National Acrhives
Document Photo: Hoag Levins

The small strip of bedding soaked in Abraham Lincoln's blood was donated to the Camden County Historical Society in 1902 by founding board member and Civil War veteran Louis DeRousse. Mr. DeRousee also was a member of Camden's Grand Army of the Republic Post 37. Larger photo.

the assassinated President died on April 15, 1865. It is accompanied by a piece of brittle stationary covered with blotchy nib pen handscript explaining that the item was presented to Union Army soldier Walter H. Kimball by Governor John A. Andrew of Massachusetts.

Cherished relics
"Although it does seem ghoulish in this day and age," said the late Judith Snyder, executive director of the Camden County Historical Society, "the preservation of such death souvenirs as cherished relics was a common practice in Victorian times."

"Killed at his moment of triumph, Lincoln was venerated in an almost saint-like fashion," she said. "The sheets, pillow cases, blankets, handerchiefs and other items soaked in his blood were cut up and bestowed as honors on members of the cabinet, military officers, high government officials and other Civil War VIPs. These relics were sacred objects. One of them also went to Lincoln's son, Robert. However, we know that Mrs. Lincoln was appalled by the idea of giving out bloody pieces of sheet."

"The Chicago Historical Society has several pieces like this and other Lincoln collectors also have some of the blood relics," she said.

Ms. Snyder's last interview
The blood relic was one of many of the Society's Civil War artifacts that Ms. Snyder discussed in August during what was to be her last interview. She died suddenly on Oct. 19 at Our Lady of Lourdes Medical Center.

It seems somehow fitting that the former museum curator and former editor of "Victorian" and "19th Century" magazines spent her final press encounter discussing the era she so gloried in. The Civil War and Lincoln's assassination occurred at the height of Victorian times. Both events were also crucial historical watersheds for Camden County and surrounding southern New Jersey. Since coming to the society in 2001, Ms. Snyder had taken a particular interest
Photo: Hoag Levins

The late Judith Snyder, former executive director of CCHS, points to the broadside announcing President Lincoln's plan to attend the April 14, 1865 evening performance at Ford's Theater. Larger photo.

in exploring its Civil War holdings and in publicizing the plight of neglected Camden cemeteries -- burial grounds rich in both genealogical information and Victorian death architecture documenting Camden's large number of Civil War veterans.

Large collection
Over the 105 years of its existence, CCHS has accumulated a major trove of Civil War artifacts. The core of its collection was donated at the turn of the 20th century by CCHS founding member Louis DeRousse, who was both a Civil War veteran and head of Camden's Grand Army of the Republic Post 37. The GAR was an organization of Union Army veterans similar to today's American Legion or VFW.

When she first arrived as the Society's new museum curator in 2001, Ms. Snyder couldn't find a detailed inventory of the Civil War collection and, so, began several years of staff digging and cataloging that turned up unexpected finds like the Lincoln blood relic.

In another instance, in the catacomb-like labyrinth of the Society's basements, she noticed that in a long-untouched box of empty frames there appeared to be one with something still behind its glass. "When I pulled it into the light and saw what it was, my first thought was 'this can't possibly be real,'" she said.

Rare Lincoln 'broadside'
Forgotten in a box of basement junk since earlier in the 20th century was an extremely rare April 14, 1865, broadside -- or advertising poster -- from Ford's Theater announcing that President Lincoln would attend the performance of the play "Our American Cousin" that evening.

At 10:15 p.m., as he sat in a rocker watching that show, President Lincoln was shot in the head at point blank range by John Wilkes Booth. He died nine hours later on April 15 in the bed of a tailor's home across the street from the theater.

"This is a real American treasure," said Ms. Snyder, tapping on the broadside that has turned a light chocolate brown. She displayed the yard-long document in its special preservation folder on a table in the Society Library.

"In 1865, broadsides like this were the state-of-the-art technology of mass communication," she said. "Printers turned out this sort of thing all the time to be hung up around town to inform the public. I know from interviewing the curator at Ford's Theater that there were many different versions of this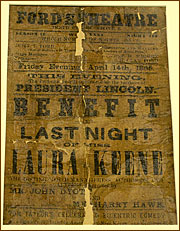 Photo: Hoag Levins

This version of the April 14, 1865 broadside is rare because it contains the special mention that President Lincoln would attend the play at Ford's Theater that evening. He was shot as he watched the performance and died the next morning. Larger photo.

particular broadside because this play, starring Laura Keene, ran for some time."

Special version
"But," she said pointing at a special band of text toward the top of the broadside, "this was a very special version. The printer inserted this text saying 'This evening in the presence of President Lincoln...' at the last minute on the morning of the 14th. We know the President was having difficulty getting people to go with him that night but he promised his wife they would attend. So he finally found a few people who would accompany him, the theater informed the printer, who rushed out this specially updated broadside."

Ms. Snyder, who was still researching the background of the advertising poster when she died, said she had found one other identical poster so far -- in the collections of Harvard University Theater Museum -- and was still checking with other museums and institutions like the Library of Congress.

Camden County's Civil War
Ms. Snyder pointed out that today, 140 years after the end of the Civil War, many Camden County residents and visitors don't understand how important the war was as a local event that dramatically changed the society and economy of the Camden-Philadelphia metropolitan region.

"I think a lot of people who sat enthralled through all those hours of Ken Burns' The Civil War on PBS a few years ago tended to view it as a story that took place somewhere else," she said.

"The Civil War was not a distant event for those who lived in southern New Jersey in the 1860s," she continued. "It impacted everything and everybody every day. It took thousands of local sons and brothers and husbands away to die or be profoundly affected by life-altering experiences. It a the source of daily concern of the spiritual as well as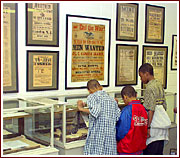 Photo: Hoag Levins

School students visiting the Camden County Historical Society museum can see military artifacts and the recruitment posters that raised local troops for the war that ended slavery. Larger photo.

physical sort. The Delaware Bay shores were a fortified defense zone that anticipated a Confederate invasion. And when Lee's forces actually did invade the North -- at Gettysburg, just a hundred miles from Philadelphia -- the eyes and anxieties of Camden were riveted west."

War's economic impact
"The industrial and economic impact of the Civil War on South Jersey and the Philadelphia metropolitan area was enormous. There were two federal arsenals, a chain of shipyards, and what became the world's largest locomotive factory in an era when trains were a key military tool," she said.

"The early food processing industries, for which Camden would later became world famous, also came out of the Union Army's need to provision unprecedented numbers of troops on the move. The massive use of inventions like Mason jars and tin canning methods during the war revolutionized the food industry."

Recruitment posters
During her tenure at the Society, Ms. Snyder reorganized the displays of its museum to expand and emphasize the Civil War holdings. Included in those displays are a wall filled with rare broadsides used to recruit the Camden men who went off to fight at places like Bull Run, Antietam, Milliken's Bend and Gettysburg, and are now buried -- and largely forgotten -- in Camden's poorly maintained cemeteries.

"In many ways, it's ironic," said Ms. Snyder. "At a time when there's such a quest to find historic Camden themes that lend themselves to regional promotion, we seem almost determined as a county to ignore the Civil War history that literally lies all around us."
---
All Rights Reserved © 2004, Hoag Levins