A CIVIL WAR COLONEL IN OLD CAMDEN CEMETERY
A Regimental Monument Spared by Vandals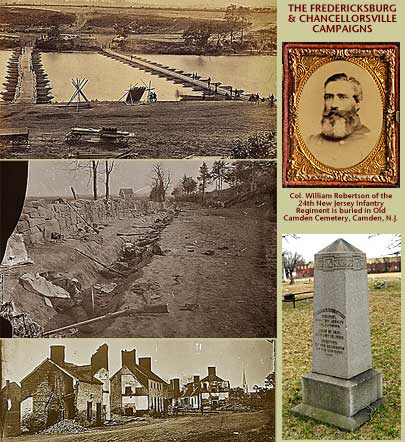 CAMDEN, N.J. -- Col. William Robertson was a resident of Camden, N.J., who led the 24th New Jersey Infantry Regiment of the Union Army's Second Corps during the Civil War. He is buried in the now-unmaintained and heavily damaged Old Camden Cemetery.
His 24th New Jersey unit participated in a number of major Civil War actions, including the milestone battles at Fredericksburg and Chancellorsville. Above, top, are the pontoon bridges across the Rappahannock River that enabled the Second Corps to proceed toward Fredericksburg. Above, middle, dead soldiers line the trenches that were the site of heavy fighting there. Below, the town of Fredericksburg was destroyed in the great clash between Union and Confederate troops.
Lower right, the gravestone of Col. Robertson. The inscription reads "William B. Robertson, Colonel, 24th New Jersey Volunteers, June 21, 1821 - August 10, 1888, Erected by His Comrades of The Regiment."
---
All Rights Reserved © 2004, Hoag Levins