DEAD AND FORGOTTEN IN OLD CAMDEN CEMETERY
The Sad Story of the City's Oldest Graveyard
CAMDEN, N.J. -- If ever there was a place that epitomized the concept "dead and forgotten," it is the forsaken eight acres known as Old Camden Cemetery near the center of this county seat.
Photo: Hoag Levins
Large areas of Old Camden have been denuded of their grave markers and even the heaviest of marble slabs have been wrestled off their footings. Larger photo.
A rough triangle bounded by Mt. Vernon St., Haddon Ave., and Mt. Ephraim Ave., it is the city's oldest organized burial ground -- the place where many of the city's Quaker founders, community leaders, Civil War heros, assorted other 19th-century notables and common folk are interred.
Devastation
As we wandered the grounds in recent weeks, it was shocking to see the level of utter devastation here. The overall appearance is that of a war zone after a major battle. Acres of gravestones lay in shards, as if smashed apart by sledge hammers. Ornate Victorian wrought iron plot fences are twisted apart like so much tortured taffy. Twelve-inch-thick marble obelisks are toppled to the ground and broken in half.
"This isn't something minor, or the normal level of vandalism you expect in old inner-city graveyards," said Judith Snyder, executive director of the Camden County Historical Society. Hers is not a casual observation. Since 1992, Ms. Snyder has been regularly passing the cemetery on her way to work and, like a participant in a time-lapse photography project, has watched whole sections of grave markers disappear.
"What's happening at Old Camden Cemetery," she continued, "is extraordinary. Entire areas
Photo: Hoag Levins

Much of the area near the Haddon Avenue end of the cemetery looks like an open field even though it was once lined with rows of gravestones. Larger photo.

have been completely denuded of gravestones so that to passersby they look like vacant fields rather than hallowed ground."

Beyond its broad swaths of broken stone, the cemetery also features jungle-like tangles of weeds strewn with trash, broken bottles, old mattresses and wooden pallets. Adding a touch of the macabre are collections of plastic grocery bags filled with headless, mutilated chickens in full feather. At the center of one cluster of graves near a large tree was a two-foot-wide hole dug nearly three feet deep -- for reasons one can only guess at.

Although the City's Department of Public Works is, theoretically, responsible for maintaining the 203-year-old cemetery, visible evidence suggests that the department has been less than intensely focused on this particular task.

In a June, 2000, message posted to the public RootsWeb.com, former Camden County Historical Society executive director Paul Schopp said, "Old Camden Cemetery has been a political football for many years... The grass is cut on occasion and, occasionally, inmates from the County jail also appear at the cemetery to perform cleanup duties. In years past, when a marker was knocked from its base, the errant marker was thrown into the back of a dump truck and dumped into the Delaware River up near the Farragut Yacht Club in East Camden. It is a shame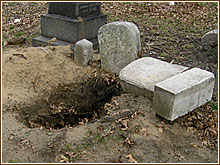 Photo: Hoag Levins

Perhaps the most shocking sight in Old Camden is the impromptu excavation into a 19th-century grave not 20 yards off the sidewalk of Haddon Avenue. Larger photo.

and a crime, but the state cemetery laws are not strong enough to prevent this type of disaster. Hopefully, some changes can be effected in the future."

"Old Camden Cemetery" is the name now generally used to describe what are actually two separate interment areas. The smallest and oldest -- it dates to 1801 -- is the burial ground of the New Newton Quaker Meeting, a church established the same year. The second, larger, section was opened by the city as Camden Cemetery in 1836 and continued burials into the early 1940s.

George R. Prowell's 1886 "History of Camden County, N.J." reports that from 1836 to 1886, 9,477 people were buried in (Old) Camden Cemetery. This does not include interments in the adjoining Quaker Burial Ground. According to a 1931 report prepared by the Camden City Engineer's office, there are 139 graves there.

From 1886 to the 1940s, when (Old) Camden cemetery closed, burials continued. A total of about 11,000 people are now buried there, according to Ms. Snyder. And she should know, given that her organization maintains the complete collection of records from both graveyards.

Throughout 1937 and 1938, the federal Works Progress Administration that harnessed the nation's writers to the task of cataloging and preserving the documents of important local historical sites had a crew working on documenting Old Camden Cemetery. Aside from gathering, indexing and collating burial records, they conducted the field work required to create detailed maps showing the location of most of the burial plots. Since then, these files have been a part of the Camden County Historical Society's archives, and are made available to historians, genealogists and other members of the public.

War of 1812
Although there are no known Revolutionary War veterans here, one of the earliest burials to take place in Old Camden Cemetery was that of Capt. Henry Miller, a veteran of the War of 1812 who was interred on Oct. 22, 1837.

Prowell's 1886 history reports that, at the time of its printing, 135 veterans of the Civil War were interred here. Burial records and stone inscriptions indicate that a significant number of additional Civil War veterans who died after 1886 are also buried in Old Camden.

Here are just three of them:

William Robertson
Col. William Robertson's gray marble obelisk is one of the tallest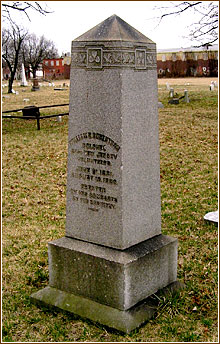 Photo: Hoag Levins

A thick obelisk marks the resting place of Civil War Col. William Robertson. He led the Union Army's 24th New Jersey Infantry Regiment into battles at Fredericksburg and Chancellorsville. Larger photo.

undamaged monuments still standing in Old Camden Cemetery. The weight, girth and sheer density of its solid marble are impervious to all but the most powerful industrial demolition or stonecutting tools.

Those same qualities would have made it an unusually expensive memorial when it was raised in 1889. An inscription indicates that the massive monument was erected by "His Comrades of The Regiment" as a testament to Col. Robertson's place in Civil War history.

The Camden resident was in charge of the 24th New Jersey Infantry Regiment. It served in the December, 1862, battle of Fredericksburg, Va., that was part the Union Army's initial thrust toward the Confederate Capital of Richmond. The 24th also took part in the battle of Chancellorsville in the spring of 1863. Both battles are major milestones of the Civil War. The shamrock bands that surround Col. Robertson's obelisk are not an icon of his Irish heritage, but rather the symbol of the Second Corps of which the 24th Regiment was a part. The shamrock appeared on all the Corps' regimental flags and battle pennants.

Returning to Camden after the war, Col. Robertson lived at 840 Federal Street, working as a salesman until his death in 1889.

David J. Painter
David J. Painter's stone in the northwestern corner of Old Camden is remarkable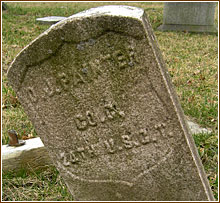 Photo: Hoag Levins

David Painter was a Camden resident who served in the United States Colored Troops in the Civil War. His grave marker notes he was in Company C of the "U.S.C.T." Larger photo.

for two reasons: it is still standing even though it is very fragile, and its regimental marker inscription within a Union Army Shield says "U.S.C.T." -- the 19th-century military acronym for "United States Colored Troops."

Painter was a resident of Camden who, according to city directories, lived with his mother, Isabella, at the rear of 913 South Second Street. Painter enlisted in the Colored Troops section of the Union Army and received basic training at Camp William Penn outside Philadelphia. He became a private in Company C of the 24th Infantry Regiment of the U.S.C.T. and served during the final phase of the war in Washington, D.C., Richmond, Va., and Roanoke, Va. He came home to Camden after the war, working as a laborer and living at 831 Locust Street until his death. His mother applied for his Civil War pension in 1890.

Like the very existence of the unit in which Painter served, the existence of his grave in this cemetery commemorates a pivotal point of cultural change in America. The large-scale recruitment, training and arming of free men of color and former slaves as a cohesive African-American battlefield force marked a watershed in both the racial and military history of the United States. Similarly, the distinguished service of U.S.C.T. veterans caused some communities to rethink their racially peculiar burial prohibitions. For instance, Pvt. Painter was laid to rest in a cemetery that, prior to the Civil War, legally barred the interment of blacks or the transfer of plot ownership from a white person to a black person.

Christopher Hill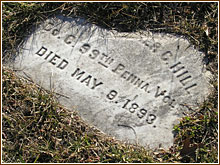 Photo: Hoag Levins

Christopher Hill's stone was smashed apart and only a single piece remains almost completely buried from view. The Camden resident was wounded twice during his Civil War service with the 99th Infantry Regiment of the Pennsylvania Volunteers. Larger photo.

Christopher Hill's stone at the north-central end of Old Camden is all but invisible. The once-upright marker was shattered and its parts removed. Now, only a single large shard remains partially buried just beneath the surface. After grass and dirt are pushed away from it, the wording of a last name, unit and date of death can be seen. But the information is enough to match against Union Army military records and 19th-century Camden City directories.

After enlisting in August of 1862, Christopher Hill joined Company C of the 99th Infantry Regiment of the Pennsylvania Volunteers. The unit was involved in some of the heaviest fighting of the conflict; two different monuments at the current Gettysburg National Military Park commemorate the regiment's service in that titanic 1863 battle. In 1864, Private Hill was wounded during the battle of Boydton Plank Road, one of a cluster of battles that took place as part of the Union campaign against Petersburg-Richmond, the two-city nexus that was the military, governmental and railroad hub of the Confederacy. The private was wounded a second time in another portion of the battle for Petersburg on March 25, 1865.

After the war, Hill worked as a wood turner in Camden. He and his wife lived at 132 Mount Vernon St., just a short distance from where he was laid to rest in Old Camden Cemetery after his death in 1893.

The Quakers
The southeastern quadrant of the cemetery -- that at Mt. Vernon Street and Mt. Ephraim Avenue -- was once the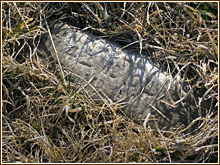 Photo: Hoag Levins

What appears to be a vacant lot behind a warehouse at the Mt. Ephraim Avenue and Mt. Vernon Street end of Old Camden is actually a Quaker cemetery whose stones now lie below the surface. One hundred thirty-nine members of the city's founding Quaker families are buried here. Larger photo.

site of Camden's first church and its surrounding burial ground. The central building (razed by the city to make way for a toilet manufacturer's warehouse in 1956) was built as the "New" Newton Meeting in 1801 after the congregation's original meeting house in what is now Collingswood burned down.

The New Newton Meeting was the core of a Quaker enclave that played a pivotal role in creating the social and business community that evolved to become Camden. The names of its leading members -- Cooper, Kaighn and Mickle -- continue to define the contemporary city's street grid and historic sense of itself.

Among those interred in the Quaker Burial Ground are:
William M. Cooper, Benjamin Cooper, John M.K. Cooper and Mary Cooper, all descended from the original William Cooper, who ran a Delaware River ferry business in the last years of the 17th century.
Isaac Mickle, an attorney, editor of the Camden Democrat when newspapers were the primary means of mass communication, and a historian who authored "Reminiscences of Old Gloucester," a work documenting the early history of European life in the river villages that became the western urban edge of today's Camden County.
Dr. Isaac S. Mulford, a highly respected civic orator at a time when public speeches were second only to newspapers as the primary means of mass communication. A physician, he organized the city's and county's medical societies. He was also a historian who wrote the book, "Civil and Political History of New Jersey."
Richard Jordan, a world-traveling Quaker evangelist and abolitionist whose early 19th-century farm in what is now downtown Camden was immortalized on elegant Staffordshire chinaware.
Twenty years before the outbreak of the American Revolutionary War, Jordan was born to an affluent North Carolina Quaker couple who operated a slave plantation. After leaving North Carolina, he returned repeatedly to buy and free his own family's slaves as well as lobby the state legislature against the institution of slavery. He later traveled widely to Quaker communities throughout the U.S. and Europe as an itinerant evangelist, speaking out on behalf of the plight of "the oppressed Africans among us."
Jordan's grassroots antislavery work was part of the early phase of a movement that, by the 1830s, would become a mainstream political force that ultimately sparked the Civil War.
Jordan, who wrote a book about his world travels entitled "Journal of Richard Jordan," spent the last 19 years of his life as a member of the Newton Meeting in what is now Camden. Jordan, who died in 1826, and his wife, Pharaby, who died in 1825, are considered by many to be the Quaker Burial Ground's most distinguished occupants.
"The presence of Richard Jordan in this cemetery alone is enough to meet the criteria for a National Register of Historic Places designation," said Ms. Snyder. "He was significant enough that people continue to research his life and discuss his activities 178 years after his death."
"As a very early abolitionist, he was doing his work in the opening years of the 19th century at a time when this area and Philadelphia across the river were a center for the movement. At the time he embraced the concept of abolition, Jordan preached a radical idea: that slaves were as human as white Europeans and should be treated on the same level of humanness as everyone else."
Hoag Levins is the editor of HistoricCamdenCounty.com. Sandy Levins is a Trustee and Director of Programming of the Camden County Historical Society.
All Rights Reserved © 2004, Hoag Levins