CAMDEN'S GRAND ARMY OF THE REPUBLIC MEMORIAL
A Civil War Burial Ground in Evergreen Cemetery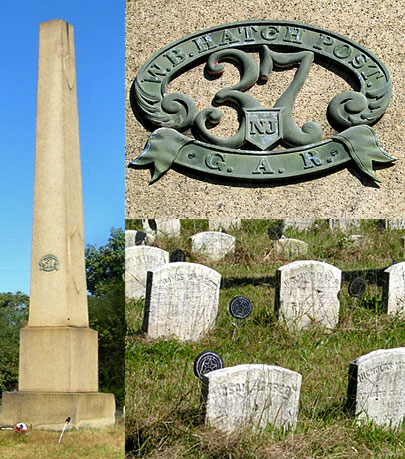 CAMDEN, N.J. -- The Grand Army of The Republic memorial section of Camden's Evergreen Cemetery is only one of the many burial grounds throughout the county that hold the remains of local residents who served in the Civil War.
Among other things, these resting places are a reminder that that war was a military, economic and social crucible that dramatically altered life in southern New Jersey during the 1860s. After the war, the region supported many Grand Army of the Republic Posts -- the organizations that were to Civil War veterans what the American Legion and VFW are to today's veterans.
GAR Monument
Camden's largest GAR group was the William B. Hatch Post 37. It placed a soaring granite obelisk in Camden's Evergreen cemetery to honor Civil War veterans and perpetually mark their graves.
At the turn of the 20th century, as GAR members and posts were dying out, local businessman, GAR member and founding trustee of the Camden County Historical Society, Louis DeRousse, donated his large trove of Civil War artifacts to the Society. Today, they form the core of the organization's Civil War collection that is one of the city's most significant historical assets.
---
All Rights Reserved © 2004, Hoag Levins