A CIVIL WAR PRIVATE IN OLD CAMDEN CEMETERY
Smashed Tombstone Sinks from Sight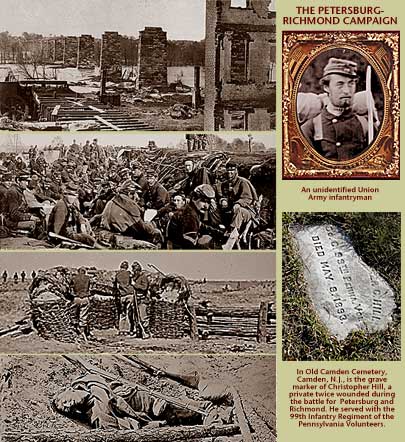 CAMDEN, N.J. -- Typical of the Union Army veterans of the Civil War who are buried in devastated Old Camden Cemetery is Christopher Hill. A large segment of his smashed tomb stone is barely visible as it continues to sink into the ground of the unmaintained and heavily damaged burial ground.
A resident of Camden, Hill was a private twice wounded during the battles for Petersburg and Richmond. He served with the 99th Infantry Regiment of the Pennsylvania Volunteers.
While the fighting of the Civil War raged across the whole lower half of the country, one of its primary focal points was the Confederate capital of Richmond, Va., and the nearby critical railroad bridges and hub facilities at Petersburg. The final collapse and occupation of Richmond by Union troops was a closing act of the conflict.
Hundreds of thousands of Union Army soldiers, including Pvt. Hill, were ultimately involved in battles across all of eastern central Virginia to isolate and finally crush the Petersburg and Richmond defenses. The photos above show the destroyed rail bridges, trench lines, fortifications and dead from those pivotal Civil War battles.
---
All Rights Reserved © 2004, Hoag Levins