.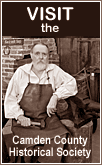 ...TOP STORY


































2007 TWELFTH NIGHT IN CAMDEN
An Evening of Cakes and Molly Dance
Celebrating the Food, Traditions and Holiday Street Antics of an Earlier America






A TASTE OF CIVIL WAR FOOD
Food History Event Samples Jaw-Cracking Hardtack, Hospital Gingerbread and "Idiot's Delight"
ALSO: Watch the Video























THE WARMTH OF AN OLD TIME CHRISTMAS
Photo Feature From the Candlelight & Carols Tours in Camden's Pomona Hall
Camden County Historical Society Visitors Experience an 18th-Century Holiday.



'SAVE LORD CAMDEN' EFFORT LAUNCHED
Mayor's Office and Historical Society Act to Preserve Historic Portrait
One of the American Revolution's most curious heros has come to live at the Camden County Historical Society forever. But he needs help. Find out why.







































All Rights Reserved © 2001 - 2013, HistoricCamdenCounty.com
editor@HistoricCamdenCounty.com
.
About this Web site
..

OTHER COUNTY SITES